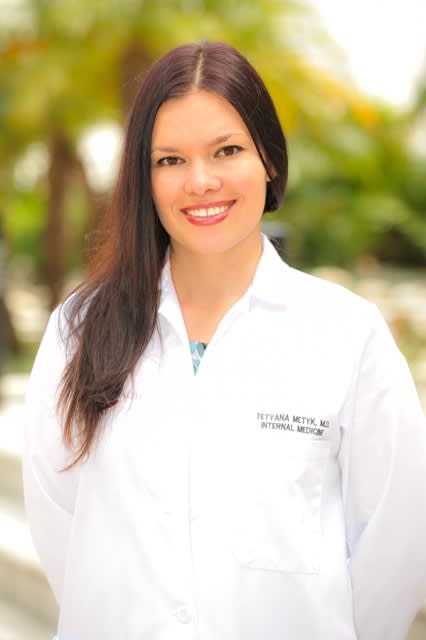 Dr. Tetyana Metyk is Board Certified physician in Internal Medicine. She graduated medical school with Honors and joined Internal Medicine Residency in Orlando, Fl, at ORMC hospital. She was trained as a Hospitalist with an accent to treat severe and urgent medical problems which required hospital admissions.
After residency, Dr. Tetyana Metyk joined her husband, podiatrist Dr. Michael Metyk and they practice together at Port Charlotte, FL.
Throughout the years of private practice, Dr. Metyk developed a particular interest in skin procedures, varicose veins treatments in lower extremities, aesthetic treatments, weight loss, PRP for skin rejuvenation, joints pain, and hair restoration. In our office, eligible patients can learn about medical marijuana certification and receive assistance with it.
We are proud to have state of the art medical laboratory with the latest technology and continue maintaining FL state certification with an exceptional score.
We know You by Your first name and assist you in any way possible.
Come and join our South West Family.
"Wherever the art of Medicine is loved, there is also a love of Humanity. " ― Hippocrates
Looking For More Than Just A Primary Care Doctor?​
Are You Tired of The Large Corporate Medical Practitioners That Have Taken Over Port Charlotte, Florida? Do they Make Your Health Feel More Like a Number?
We don't, Dr. Tetyana and her staff take pride and are keen to provide you with the best health care services you can get.
You Have Come to The Right Place; I Specialize in Primary Care and Internal Medicine on A First-Hand Basis. Whether You or A Loved One Needs Medical Attention or Simply a Primary Care Doctor, Make Sure You Consider All the Proficiency and Expertise Required for Your Health and Safety.
I Am Passionate About Helping My Patients Improve the Quality of Their Lives by Providing the Most Privileged Healthcare Possible. In My Internal Medicine Practice, You Will Receive Personalized Care, Assistance, Including Comprehensive Primary Care, As Well As Access to In-House Lab Work, Weight Loss, And Aesthetics.
We do have same-day appointments and know our patients by their first name. We are proud that our staff is professional, caring, and go above and beyond to assist in any way possible.
Book Your Appointment Right Now!