Dr.Tetyana Metyk - Internal Medicine Board Certified Physician.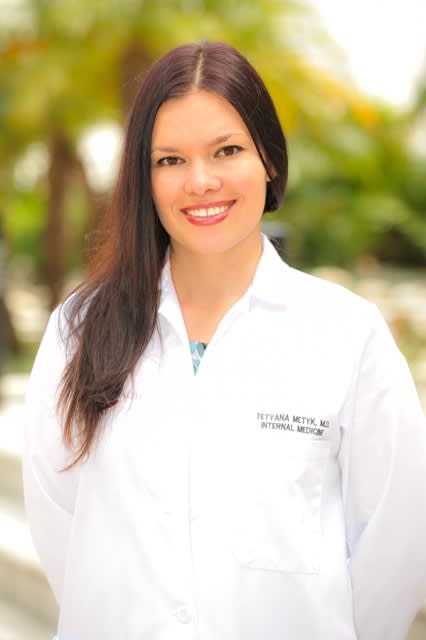 Dr. Tetyana Metyk Is Board Certified Physician in Internal Medicine. She graduated from Medical School with Honors and Joined Internal Medicine Residency in Orlando, Florida, USA At Orlando Regional Medical Center (ORMC). She Was Trained as A Professional Health Care Specialist with An Exceptional Tendency to Treat Severe and Urgent Medical Problems Which Required Hospital Admissions Right Away.
After Becoming a Professional, Dr. Tetyana Metyk Joined Her Husband, Dr. Michael Metyk Who Is a Podiatric Physician. Both Of Them Then Practiced Together at Port Charlotte, Florida, USA.
Throughout The Years of Private Practice, Dr. Metyk Developed a Particular Interest in Skin Procedures, Varicose Veins Treatments in Lower Extremities, Aesthetic Treatments, Weight Loss, PRP For Skin Rejuvenation, Joints Pain, And Hair Restoration. She Is an Expert in These Fields and Has a Thorough Experience.
In Our Office, Complete and Detailed Assistance and Certification is Given to Eligible Patients About Medical.
Looking For More Than Just A Primary Care Doctor?​
Are You Tired of The Large Corporate Medical Practitioners That Have Taken Over Port Charlotte, Florida? Do they Make Your Health Feel More Like a Number? And They Treat Your Conditions with Negligence and Without Assistance?
You Have Come to The Right Place; I Specialize in Primary Care and Internal Medicine on A First-Hand Basis. Whether You or A Loved One Needs Medical Attention or Simply a Primary Care Doctor, Make Sure You Consider All the Proficiency and Expertise Required for Your Health and Safety.
I Am Passionate About Helping My Patients Improve the Quality of Their Lives by Providing the Most Privileged Healthcare Possible. In My Internal Medicine Practice, You Will Receive Personalized Care, Assistance, Including Comprehensive Primary Care, As Well As Access to In-House Lab Work, Weight Loss, And Aesthetics.
Here Is A List Of Services and Treatments We Provide.